#MEETING Space
Business meetings space for hire
Our meeting spaces are bright and designed to help spark conversation, they offer you the ideal spot for your training, a team day and client needs. We offer a range of private business meeting spaces across our locations. MENTA Vision Centre Bury St. Edmunds, @ Inc. Co-working , King's Road in Bury St. Edmunds as well as at our Brandon and Haverhill business centers
The spaces include a full-size team and training room to a boardroom setting as well as smaller meeting spaces. Enjoy breakout space and fresh expresso coffee. Our front of house team are here to ensure you and your guests receive excellent customer service.
If you would like to include lunch or some light nibbles to accompany your visit, please advise when booking - we work with local artisan food producers that can facilitate your needs.
space@menta.org.uk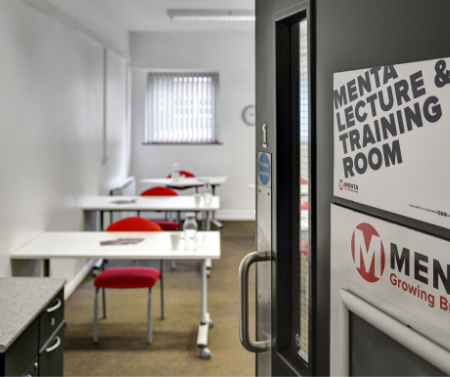 space@menta.org.uk
Lecture room for training days & presentations
The MENTA Vision Centre lecture room in Bury St Edmunds and Haverhill offers a medium sized lecture room for hire that seats up to 14 people. The bright and air conditioned space can be configured to your needs with workspace that can be adapted to your requirements. The space has public WIFI, presentation projection, flip charts as well as a range of add-on refreshment options.
Room hire includes:
Overhead projector and screen
PC laptop - we can use your memory stick or link your laptop to the projector
Flip chart and pens
Air conditioning
Reception welcome and refreshments
Groundfloor access
Check our range of private meeting space @ Inc. on King's Road in Bury St. Edmunds
MENTA board room for interviews & meetings
The MENTA 'Suite' meeting spaces are available in both Bury St Edmunds and Haverhill this bright space can be configured to boardroom-style space that seats up to 8 people. Ideal for interviews, meetings and small team presentations. Currently Fully Booked - please email for alternative space.
Room hire includes:
Flip chart and pens
Air conditioning
WiFi
Groundfloor accessibility
Reception welcome
Refreshments are available at an additional charge
A desk based projector is available, please enquire on booking